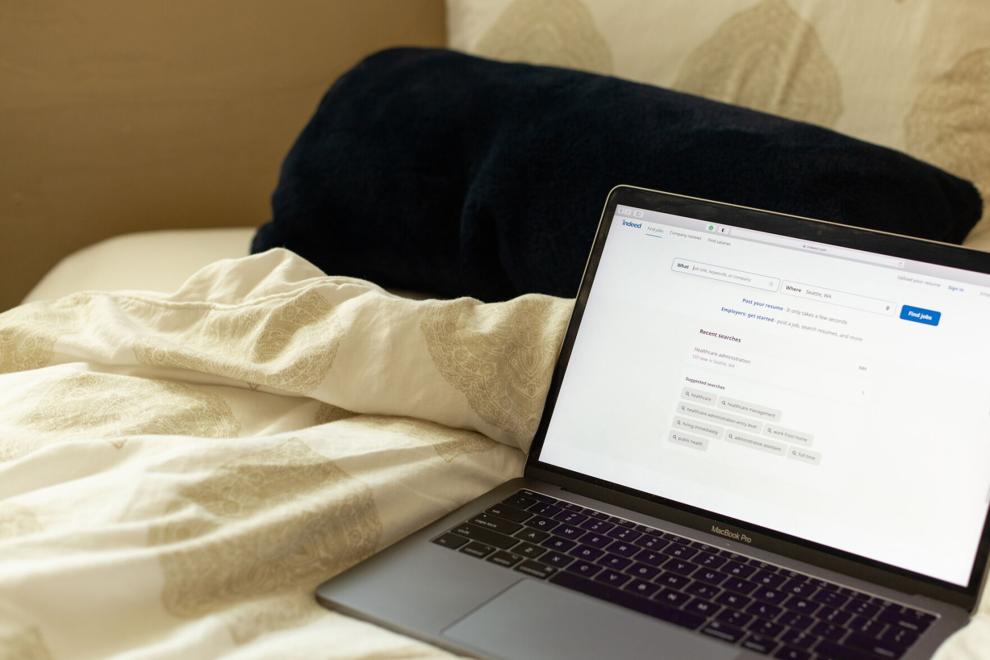 Tired of walking around trying to find stores with "Help Wanted" signs posted and not knowing how to apply? Get back in bed, because you can do all your job hunting from the comfort of your own room.
There are a variety of websites that are designated to make searching for a job as simple as a click of a button, literally. Have your resume, transcript, and cover letter ready, because beginning your dream career has never been easier.
Handshake: Handshake is the go-to place for students at the UW to start their careers. With on-campus search options, Handshake will find you UW-centric research, internship, and job opportunities that no other platform has access to.
LinkedIn: LinkedIn is a platform where you can digitize your professional network. Members of your network can endorse the skills you post on your profile. This unique feature allows job recruiters to see who you are connected to and what they have to say about you.
If you haven't built up a network yet, don't worry. LinkedIn makes it easy to find mutual connections based on your education, profession, interests, location, and more. If the job listed on a mutual connection's profile interests you, message them to get intel on how they secured their position.
LinkedIn has the advantage of being a widely-known and accepted platform to find high-profile jobs. A disadvantage is that the quality of results is not the same when searching for a minimum-wage summer job.
Indeed: Indeed is the most useful platform for organizing and developing your resume. If you are looking for additional help with resume development, just answer Indeed's questions to build your profile, which Indeed turns into a resume.
To make your profile stronger, Indeed allows you to take skill assessments that show your proficiency in areas like proofreading and Microsoft Office. This feature helps to strengthen your resume by backing up the claims you make. If you fail, don't fear. Indeed will only post your scores if you pass.
Glassdoor: This site offers the same search results as the majority of job websites, yet it has the advantage of being able to search possible questions that may arise during your interview. Just switch your search function to "interviews" and research data about the most common interview questions in your field will appear.
You can also search by salary to view the average amount people in those jobs make. Although this is a helpful feature, it is also not something that will help land you a summer job on the Ave.
Monster: Students have said Monster has always been a very average job hunting tool and that it's never their first reach. Yet immediately after making an account, Monster offers to have your resume reviewed by professionals for free. This is the only career-posting website that offers this resource.
Besides that, Monster yields average-to-subpar search results compared to the rest. For instance, when searching for "internship in Seattle, WA" the top result was "Summer Nanny Needed For 2 Children In Bellevue at Care.com."
ZipRecruiter: It's quickly evident that ZipRecruiter has little-to-no outstanding qualities. They have average results, average search functions, and average features to enhance your profile.
One thing that sticks out is ZipRecruiter's "1-Click Apply" button that makes it extremely easy to apply to jobs. Just click the button, answer the remaining multiple choice informational questions like "are you authorized to work in the US?" and the application is submitted.
Also, they are highlighting jobs that are actively hiring during COVID-19, which can be a very useful feature during quarantine.
Craigslist: There is a common misconception that Craigslist is not a place to start a professional career. In reality, Craigslist offers many job opportunities that are not distributed on other websites. From a paralegal position to an electrical engineer internship, the options are endless.
Unlike other websites, there is an authenticity to the website that is not expected. People post openings and you email them if interested. There are no extra profiles or complex search engines.
Despite this, proceed with caution. Craigslist has a reputation for being sketchy and untrustworthy due to these limited restrictions. Remember to always research the company you are interested in no matter what side you're on.
Newspapers: If the simplistic nature of Craigslist appealed to you, then looking through classified sections of newspapers is the search engine for you. Local businesses send job postings to newspapers in the area to broadcast their openings and leave their contact information listed if interested.
Although this is not the most robust section, not many people search through classifieds regularly. Therefore, you can be one of the first to apply to the job.
No matter where you're from, the chances are your city's paper has a classified section. In Seattle, The Stranger and The Seattle Times are some papers that have this job search function. Even better, The Daily has a classifieds section.
And there's no need to go outside. Most newsletters that are available online will feature the classified section digitally too.
Reach editor Martina Povolo at huskymedia@dailyuw.com. Twitter: @martinapovolo
Like what you're reading? Support high-quality student journalism by donating here.