Windows 10 is still the most widely used consumer desktop operating system, making it a prime target for hackers and malware creators looking to profit off its many users. From adware, trojans, viruses, ransomware and a host of other dangerous and malicious content available on the web, it has become more important than ever before to keep your computer safe with a reliable security suite.
Sure, your Windows 10 installation comes with Microsoft Defender built-in, but is it good enough? Let's take a look at the top five free antivirus programs that you can use to protect your computer.
1. Avast Free Antivirus
Avast is one of the most popular free antivirus programs available today, and more importantly, scores very high on tests from security testing labs. While performing a scan, the program also allows users to upload samples of any suspicious files detected to the cloud for deeper analysis- then updates all affected devices with a fix.
The company also offers users the ability to monitor their networks for intruders and verify their system integrity and settings to make sure there are no weak points that malware can use to get in – such as weak passwords, badly configures settings and outdated software. You can download Avast's free antivirus solution from this link.
2. AVG Antivirus Free
Another household name in consumer desktop computer security, AVG's antivirus security software features a capable scanner with good scores in independent labs testing, along with limited previews of their more premium products. The free version blocks both viruses and malware, but the paid versions offer a lot more.
With AVG's free tool, you can also attack malware that is difficult to remove, thanks to a boot-time scan feature that runs before the computer boots up. Since you can't remove malware that runs while your computer is running, this tool will delete them before they can start along with your Windows 10 installation. All of the extra features are behind the paywall, though, which is worth keeping in mind. You can download the software here. 
3. Kaspersky Security Cloud – Free
While Kaspersky's scanner is technically a cloud-based antivirus, the software has consistently scored well on third-party testing labs, with excellent detection rates. The company says that the free antivirus can adapt to what you're doing and knows when to alert, when to warn and when to intervene to block threats.
While the company offers higher tiers of the service, it also offers a very limited version of the service for free users which includes real-time protection, but you can still access real-time alerts, limited VPN coverage and store up to 15 passwords in the company's vault. You can learn more about the tool here. 
4. Sophos Home Free
Unlike many free antivirus tools, Sophos offers a lot of its premium services for free under the Sophos Free tool. Apart from high scores on third-party testing labs, the free version includes Predictive Artificial Intelligence Threat Detection, with deep learning capabilities. It also includes a realtime antivirus scanner.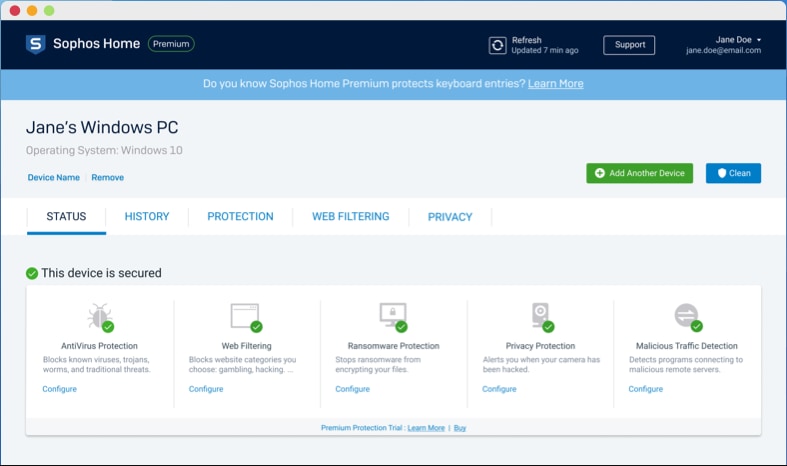 In addition to local scanning for computer viruses, malware, Trojans, worms, bots, potentially unwanted apps (PUAs), and ransomware, the service also plus into the company's SophosLabs blacklist database to block compromised or dangerous websites. You can also manage up to three Sophos desktop installations and unlimited mobile apps across PCs from a web interface. The software is available for free from the company's website.
5. Microsoft Defender
Are you surprised to see Microsoft Defender on this list? While Windows 10's built-in antimalware tool traditionally lagged behind the competition, the company's software has gotten a lot better and is a lot faster in terms of performance and scores quite well on third-party testing labs charts.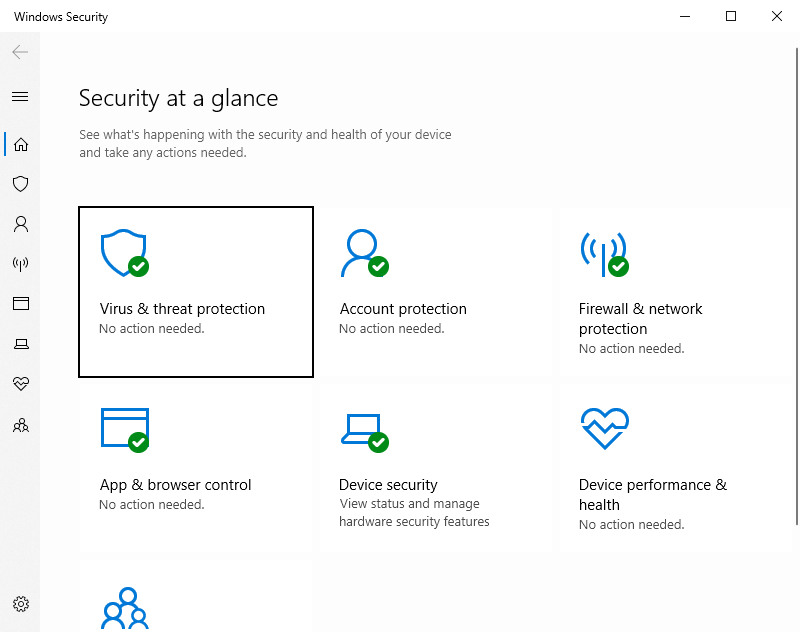 The company's SmartScreen filter can also block malicious downloads – if you're using Microsoft Edge to browse the web – which incidentally runs on Google Chrome's browser engine. However, if you use Firefox or Chrome, you won't have the same protection from phishing sites, so you may want to consider one of the other tools on this list.